PMDG Boeing 737-800 Microsoft Flight Simulator Add-Ons
Objevte a stáhněte si zdarma vylepšení scenérií, livrejů letadel, vylepšení, úprav a mnoho dalších doplňků, které zlepší váš herní zážitek. Flightsim.to je domovem více než 1000 komunitních vývojářů a nadšenců do leteckých simulací, kteří se věnují dalšímu zlepšování fascinujícího světa Microsoft Flight Simulator.
⚠️ PMDG Boeing 737-800 je produkt třetí strany, který není standardně součástí Microsoft Flight Simulatoru.
Repaint for PMDG 800 in Jet2 Scimitar Livery G-JZBY, Named Jet2Murcia after one of the 733 Jet2 are due to r...
TURKISH AIRLINES BOEING 737-8F2
Turkish Airlines Boeing 737-8F2, registration TC-JVZ.Since the aircraft is Boeing's 6000th aircraft, this feature is engra...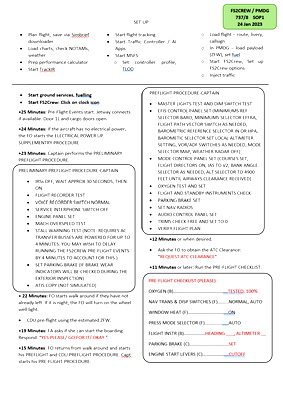 This document is a guide with all the steps for a flight using FS2Crew SOP1 for the PMDG 737. It is based on material main...
---
---